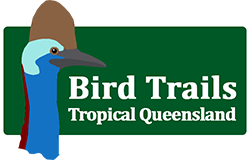 Bird Trails
Tropical North Queensland
All the best birding sites, guides and places to stay.
Welcome to Bird Trails Tropical North Queensland.
Tropical North Queensland is renowned for its incredible range of habitats and associated wildlife and birds. Indeed, Sir David Attenborough rates North Queensland as one of his favourite places. The bird diversity of the region is the greatest of any comparable area in Australia and some of the most sought-after birds of Australia are found here. It is a must-visit destination for any natural history enthusiast.
This website is designed to assist birdwatchers in planning an unforgettable birdwatching holiday to tropical North Queensland. You can use this website to research all the best birding sites, guides and places to stay during your visit.
The predominant region covered by this website, and our Bird Trails brochure is the Cairns 'Wet Tropics' World-Heritage area. Our Bird Trails brochure, downloadable on this page, has several bird trails linking key birding sites of the greater Cairns region. For each birding site, the likely birds to be observed are listed.
Visit our 'Guides' page to research the use of a bird guide or two. Guides are strongly recommended as they can help ensure you find the key birds and animals your hoping to see. Visit the 'Accommodations' page to research great places to stay. They are recommended as they often have good birds and animals on grounds, are often close to iconic birding locations, and hosts are able to provide birding information and assistance.
On our 'BirdFinder' page, you can find some tips on where and how to find each of our Top 50 most sought-after iconic birds. A pdf document of the 'Top 50 BirdFinder' is downloadable and is designed to be used in conjuncture with the Bird Trails brochure.
Test your knowledge of our special birds on our 'Quiz' page. Visit the 'FAQs' page to view answers to Frequently Asked Questions to help plan your stay.
An ideal stay in the Cairns Region is a week or more. Any visit should include staying with a few of the listed accommodations, as well as enlisting the help of a few of our excellent guides. You should also consider a cruise on the Daintree River and a visit to Michaelmas Cay. Add further days for exploration of areas further afield including Cape York Peninsula.